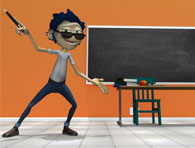 In the field of animation, the value of a well-developed demoreel cannot be emphasized enough. It serves as both your visual resume and your portfolio and is designed to present prospective employers with an overview of your technical and artistic animation skill set. It crucial that it is as close to perfect as possible, so that you can make the best first impression. We can help you develop your demoreel and hone your skills via individual, one-on-one coaching sessions with one of our animators.
What you can expect:
One on one reviews of your demo-reel and recent animation work; constructive feedback aimed to help you improve technical skills, including character animation (body mechanics, timing, weight, acting); basics (rigging, modelling, lighting, texturing and animation); software tips and tricks (Maya, MotionBuilder, 3D Max); internet marketing and digital media promotion.
Individually tailored sessions based upon your particular interests are also available. Contact us for more information at contact (at) kalskyanimation(dot)com.